Serving Santa Paula and Ventura County for over 15 years! Thank you!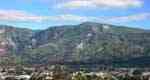 We are located in the beautiful town of Santa Paula California, nestled in California's Heritage Valley. Just 15 minutes from Ventura just off the 10th Street exit of the 126 highway.
S. P. Tune-Up Center provides many services for your vehicle, from light engine and transmission work to preventive maintenance. Brake, steering, suspension, exhaust, and electrical services also available.
Our facility includes four bays, two with full size vehicle lifts, a certified California Smog Check station with Test and Repair capabilities, and tools by the best manufacturers in the trade.
Our facility is accentuated by knowledgeable technicians certified by ASE, the state of California, Snap-On, and many more. When your vehicle needs service, no auto garage is better than S. P. Tune-Up Center!